Corn big bell mouth to fine tube
The big bell-mouth period of corn is the period from jointing to tasselling. It is the period of vegetative growth and reproductive growth. The growth of roots, stems, and leaves is very strong, the volume is rapidly expanding, the dry weight is increased sharply, and tassels have matured. The struggle for nutrients among various organs has become increasingly prominent between groups and individuals and individuals. Practice has proved that the implementation of various measures to increase production during this period can achieve a significant increase in production. Therefore, the bell-mouth period is a crucial period for the growth and development of corn, and it is also a critical period for implementing various management measures. In order to ensure the high and stable production of corn, field management must be refined:
First, the big bell-mouth period is a period in which corn needs the most fertilizer and needs the greatest fertility. In this period, top-dressing must be strengthened to prevent the occurrence of defertilization. Fertilizer should be applied according to the soil fertility and seedling conditions. 30-35 kg of urea should be used per mu, digging deep and applying fertilizer. The corn field that grows well may be given less or later. If it is too bad, it should be treated with potassium dihydrogen phosphate or highly concentrated humic acid liquid fertilizer 120-150 g per mu. The roots outside the fertilization, spraying every 5-7 days, the effect is obvious.
Second, the large trumpet of corn in the Peking Peasants has strong requirements for raising water, light, and oxygen. The cultivator can loosen the soil, improve ventilation and water and fertilizer supply, thicken the plant base soil, promote root growth, and prevent plant lodging. At the same time, removing weeds can achieve water conservation and conservation. Therefore, cultivator is an important measure for the management of large bell seasons. In the middle of the big bell-mouth period, the plowing of the Peishi should not be too early and the height of the earth should be 6-10 cm. After soil cultivation, spray corn with maize or corn syrup per acre to reduce plant height and ear height by 15%-20%, effectively balance the relationship between vegetative growth and reproductive growth, not only prevent lodging, but also improve Maize yields generally increase production by more than 15%. It is required that the uniform spray should not be re-sprayed or leaked. If rain falls within 8 hours after spraying, reduce the amount of heavy spray as appropriate.
Third, watering corn big bell season is a positive season, plant growth water demand, evaporation is increasing day by day, is the key period of corn water demand. Watering can also change the microclimate in the field, which is beneficial to corn pollination and pollination, improving the seed-setting rate, and achieving high yield and high efficiency of corn. Generally, the small bell mouth and the large bell mouth are separately watered, and the amount of water in the small bell mouth should be small, which can be carried out in separate trenches. The amount of water in the big bell mouth should be poured. At the same time, we must always pay close attention to the weather conditions so that we can discharge water and drought.
Fourth, pest control This period of corn borer, armyworm, cotton bollworm and large and small spot disease will occur to varying degrees, should be at any time to investigate the occurrence of pests and diseases in the field. If pests occur, the use of phoxim or enemies to kill the poisonous soil is good, and the control effect is good. If the disease occurs, use Antai or bacteriolytic to kill 600 times of liquid + 300 times of potassium dihydrogen phosphate or other. The foliar fertilizer is sprayed on the foliage and must be uniformly sprayed when spraying the liquid.
What`s the meaning of Fresh Chestnut 40-60pcs?It`s means 1kg chestnut have 40 to 60 pieces,30-40pcs/kg,40-50pcs/kg,40-60pcs/kg,70-90pcs/kg,80-100pcs/kg.Packing:1.Loose packing: 5kg gunny bag,10kg gunny bag,2.Small mesh bags:1kg mesh bagX10/10kg Gunny Bag;900gx10 mesh bags/9kg mesh bagx4/36kg gunny bag;25kg plastic case or as customers requirements.HS CODE:08024110,Supply avaiability:from September to December. Loading port:Qingdao China, Mini order: 28tons/40rh container, Delivery time: within 7days after receiving the deposit. If you have any questions, please let us know as soon as possible, we will give you prompt response.We also supplied Fresh Ginger ,Air Dried Ginger , Fresh Garlic , White Garlic ,red garlic. Sweet Corn , Fresh Taro , Fresh Potato , Holland Potato . Fresh Baby Mandarin, Fresh Red Grape , Fresh Pomelo , Fresh Ya Pear Chaotian Chili , Paprika Powder , Fresh Apple and so on.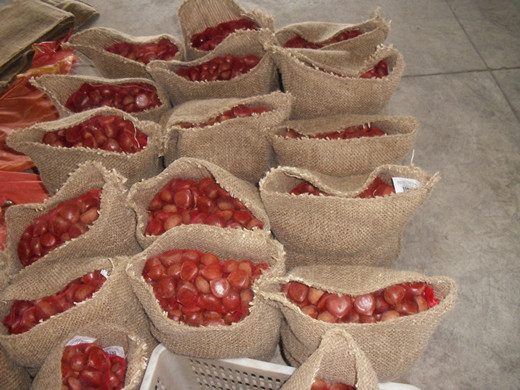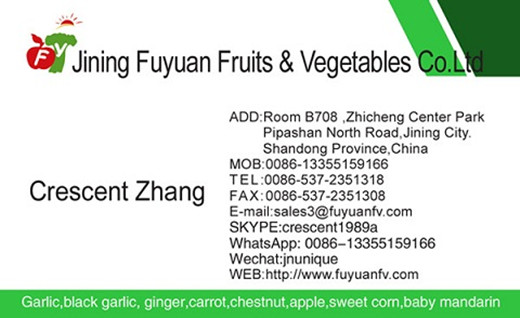 Fresh Chestnut 40-60Pcs,Pure Fresh Chestnut,Superior Fresh Chestnuts,Dried Chestnut
Jining Fuyuan Fruits And Vegetables Co., Ltd. , https://www.fuyuanfv.com