Dental Autoclave Class B Autoclave Steam Sterilization
Model NO.:

autoclave steam sterilization

Type:

Pressure Steam Sterilization Equipments

Electric Tension:

220V

Ultra High Temperature Alarm:

Ultra High Temperature Alarm

Material:

Stainless Steel

Feature:

LCD Screen Display

Trays:

3

Transport Package:

Carton

Origin:

China
Theory:

Autoclave

Certification:

CE, FDA, EEC, ISO13485

LCD Display:

With LCD Display

Sterilization Information Recording and Printing:

Sterilization Information Recording and Printing

Printer:

External

Chamber Volume:

8L

Series:

C Type

Specification:

30Kgs
Dental autoclave class b autoclave steam sterilization
Models we supply:
Grade: Class B or Class N
Volume: 8L, 12L, 16L, 18L, and 23L
Series: A, C, D, and T type

Picture: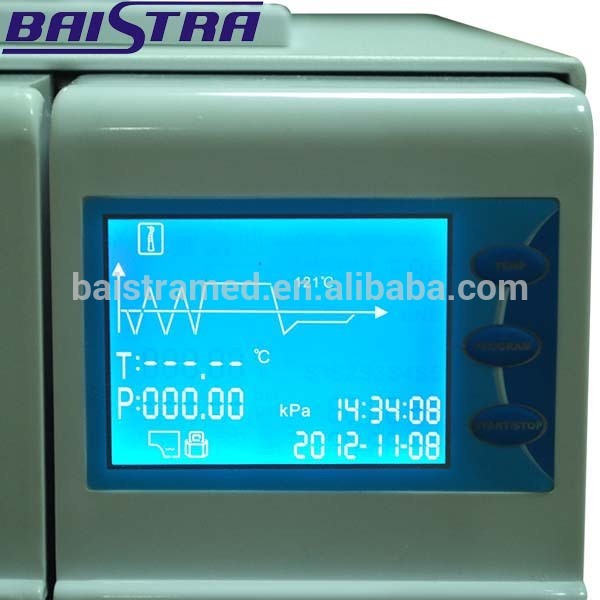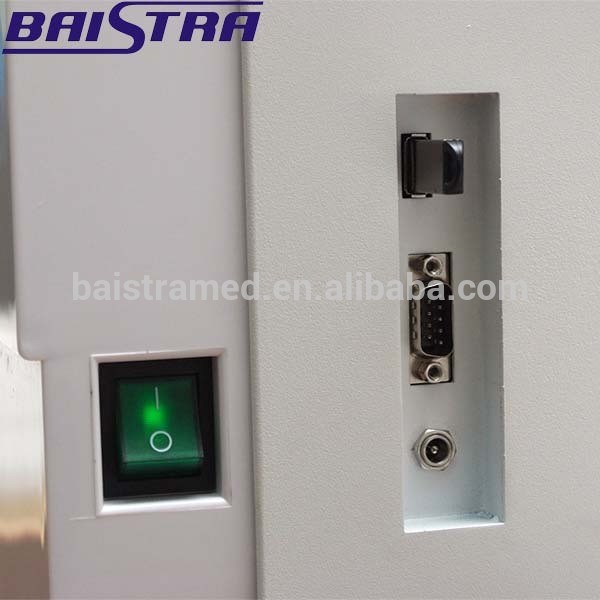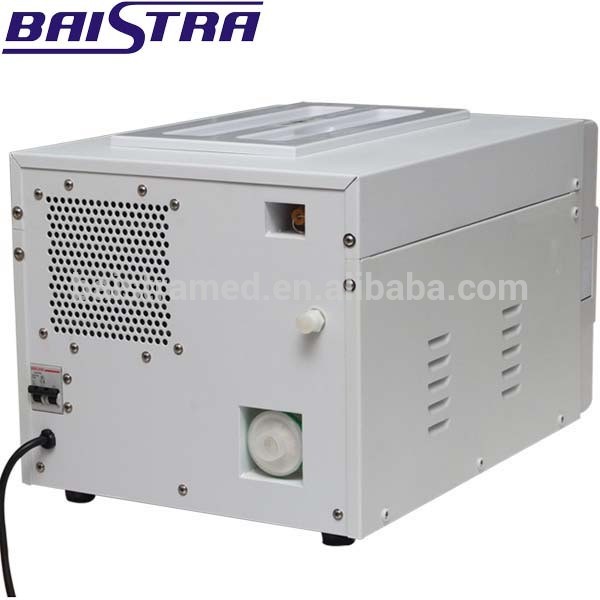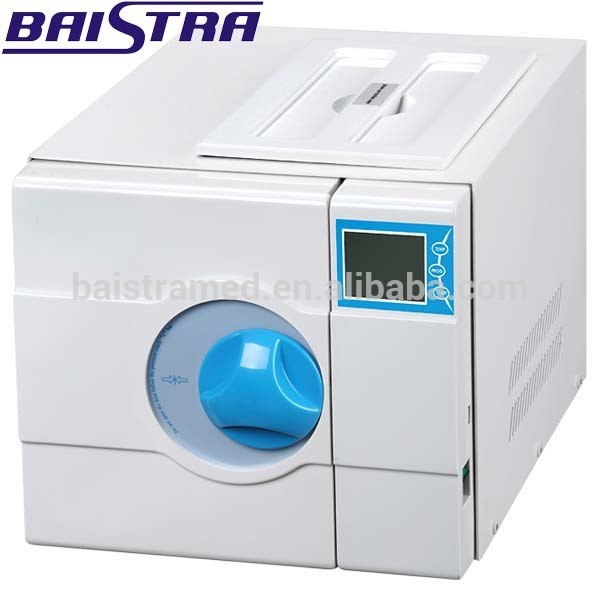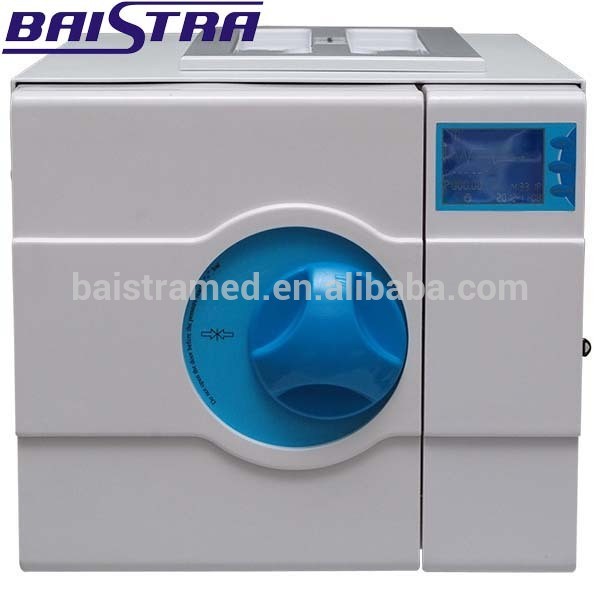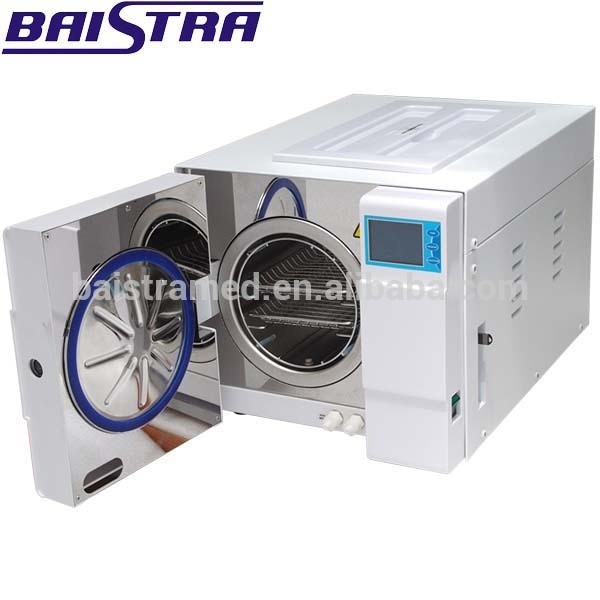 1.Overview:
IcanClave C series Class B table top sterilizers with 18 Liter chamber volume, completely automatic , microprpcessor controlled electronic auotoclave. It is a vacuum autoclave with triple frnactionated pre-vacuum working method. Simple control panel, easy to move, only need very small space, which is very popular for the small shops or clinics for tattoo, body piercing, nail caring, foot caring, dentistry, veterinary medical & laboratory practices and so on.
2.Excellent performance :
Full automatic table top autoclaves with pre-programmed sterilization cycles. . Stainless steel chamber and door, with electro-polish finish. . High precision control system for prefect sterilization results. . Built-in independent steam generator, provides readily available steam for faster cycles. . Friendly user-interface which can be operated very easily by the user. . LCD screen, displays contiuons information about cycle process. . Open-type water tank, which is very easy for water filling and cleaning.
3.Safty and Mornitoring :
 A cycle will not start unless the door is properly locked. . An automated double locking safety device prevents the door from opening while the chamber is pressurized (option ) . Pressure safety valves prevent over pressurization in chamber and generator . A safety thermostat prevents over heating in the chamber and generator . An automatic safety shut-off preveunt . An electricity-leaking protector will cut the power automatic if somewhere has short circuit or the power supplier is not very stable. . Fail alarm indicates cycle failure and detail error code, Door alram indicates the door unlocked, Water leave alarm indicates when water tank are empty or too full.
4.Documentation:
 External Printer printes detailed cycle program information. (option) . USB port & USB stick: all cycle program information are automatically written in the USB stick and can be read directly in any PC. . Internal memory: the last 20 cycles information can be automatically stored in the autoclave system, which can be printed out at any time.
5.Parameter
| | |
| --- | --- |
| Chamber Dimension (mm) | Ø247x350 |
| Chamber Volume (Liter) | 18 |
| Number of Trays | 3 |
| Voltage (V)Â  Freq. (Hz) | 220/110V, 50/60Hz |
| Power (W) | 2200 |
| Overal Dimension (WxHxD,mm) | 480x465x690 |
| Autoclave Weight  (Kgs) | 47 |
6.Programmed cycle
| | | | | |
| --- | --- | --- | --- | --- |
| Program | TEMP.(°C) | Pressure(Mpa) | Sterilization Time (min) | Total Time    (min) |
| SOLID | 134 | 210 | 4 | 15-25 |
| Â  | 121 | 110 | 20 | 25-40 |
| LIQUID | 134 | 210 | 10 | 25-50 |
| Â  | 121 | 110 | 30 | 30-55 |
| WRAPPED | 134 | 210 | 10 | 20-45 |
| Â  | 121 | 110 | 30 | 30-50 |
| TEXTILE | 134 | 210 | 10 | 20-45 |
| Â  | 121 | 110 | 30 | 30-50 |
| PRION | 134 | 210 | 18 | 30-50 |
| DRYING | / | / | / | 1-20 |
| B&D TEST | 134 | 210 | 3.5 | 22-35 |
| HELIX TEST | 134 | 210 | 3.5 | 22-35 |
| VACUUM TEST | / | / | / | 15-20 |
 
Remark: The "DRYING" program is optional, if choose this program,
it will instead of "TEXTILE" program.

 
Feed Additives ,Choline Chloride,Corn Products Co., Ltd. , http://www.sdbiotechnology.com