Drying equipment demand will expand to the food industry
In the field of grain drying, small drying equipment for rice and wheat drying (below 5 tons/hour) is expected to reach about 1,000 units per year; the annual demand for chemical drying equipment will reach 3,000 units (sets) The annual demand for pharmaceutical drying equipment will reach 3,000 units (sets); the annual demand for drying equipment for agricultural and forestry products will reach 2,000 units (sets); the annual demand for light industrial drying equipment will reach 2000 Taiwan (set) around. In order to understand the development of drying equipment, we contacted China General Machinery Drying Equipment Industry Association. According to them, in the next few years, China's demand for drying equipment will increase significantly in the following areas.
In the type of drying equipment, hot air heating atmospheric pressure drying equipment and vacuum drying equipment will be mainly used, and other users in special fields such as far infrared drying equipment and microwave drying equipment will gradually expand the application quantity; in food and medicine drying, The demand for larger gauge equipment in vacuum freeze-drying equipment will increase; the demand for equipment with functional combinations (such as granulation-drying, drying-filtration) will also increase; high-automatic drying equipment will be welcomed in some applications. . In addition, the appearance quality of drying equipment will receive more and more attention, and the corrosion resistance and reliable service life of corrosive material drying equipment will be of particular concern to users.
The fact that China has joined the WTO for many years proves that the development of the domestic drying equipment industry is as expected by experts, and it is both challenges and opportunities. As far as the domestic market is concerned, as China's drying equipment industry has begun to enter a more mature stage of development, it has been able to better meet the actual needs of users in various fields, and only 1/3 of the same foreign products in terms of price, which makes China dry. In the market competition, equipment has obvious price advantage over imported equipment; on the other hand, due to the large volume of drying equipment, most of them also involve on-site installation, commissioning and after-sales service, so for domestic users, domestic equipment is selected. It is more convenient to use imported equipment. As far as the international market is concerned, after China's accession to the WTO, it is more conducive to the expansion of exports of drying equipment. At present, the main export products of drying equipment in China are vacuum drying equipment, vibration drying equipment, small and medium-sized food, food and agricultural and forestry products drying equipment, with an annual export volume of more than 100 units. The main export areas are Southeast Asia and other developing countries. Has opened the door to the European and American markets. At present, China's dry equipment export products account for less than 5% of domestic dry equipment. Experts expect that the proportion of export products in the total domestic dry equipment will reach more than 10% during the "12th Five-Year Plan" period.
In international competition, the main competitors of China's drying equipment manufacturers are Denmark, Switzerland, the United Kingdom, Germany, the United States and Japan. Compared with competitors, the advantage of drying equipment in China is that the price is low. The main disadvantage lies in the fact that the degree of automation control, appearance quality, completeness and functional combination of the products need to be further improved.
Features:
Fast and effective heat up, even on cold days- Temperature set at 175 F
Melt-Proof inner liner (with heat sensitive dye to show mis-use or mal-function)
Operating Light- RED shows when heating and GREEN when full temp is reached
Dupont Nomex/Kevlar Insulation to keep the heat in and set Hot Pressures- Heat the entire carcass deep down
Built Tough - Codura Exterior & high impact temperature controllers, full coverage Heating Elements
Built and serviced in house
Includes a nylon carry bag
Can be used with all compound race tires
Sold in sets of two
Image as below: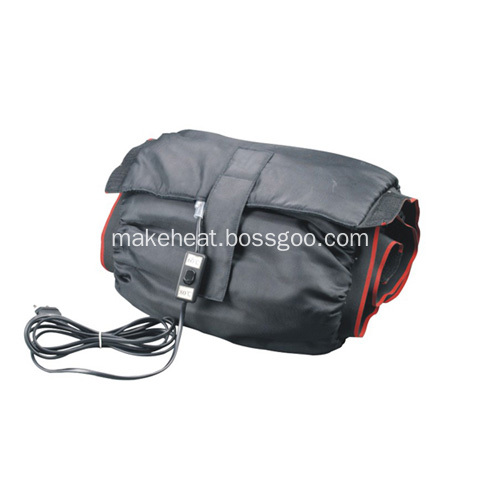 Tire Warmer, Tyre Warmers, Numerical Control Tyre Warmer, Standard Tyre Warmer
Ningbo Makeheat Electrical Appliance Co., Ltd , http://www.makeheat.net