Medical Supply Hospital Nurse Call System for Sale
Color:
All Color Customized
Usage:
Medical Nurse Calling System
Transport Package:
Wooden Case
                           Medical Supply Hospital Nurse Call System for Sale
PRODUCT OVERVIEW
1. Â Hospital Nurse Call System for Sale Description
ETR Medical Wards Calling System is designed for provideing the communication between patients in wards and medical personnel in nurses offices in case of any peculiar conditions in hospitals. With cast-into-once deluxe plastice master telephone hosing, innovative summary fixed mode, complete information electronice summary and audio number reporting system,it has higher performance-cost ration than those products of the same variety.

 
2.Hospital Nurse Call System for Sale Features
 *  Act as management center that can be linked to PC with WNS software suitable for hospital, where internal          communication is needed and is easy to be operated.
* Â  The Master Host can support 200 extensions (Included bed extension, door extension, bathroom extension); Â  Â  Â  Â WNS software can record and check patient information.
* Â Nurse Extension can broadcast for ward area.
* Â Smart Handle have LED night light.
* Â Bath Extension can receive the signals of nurse arriving and ward inspection.
* Â Door Extension equipped with multicolour door lamp, can indicate different situation by different colour.
3. Hospital Nurse Call System for Sale Functions
--- Â Wired call, Voice number telling.
--- Â Two way talk.
---  Broadcast.   
---  Point to point talk. 
---  LCD Graphic display. 
---  Information Issuing.  
---  Touch Screen Funcion. 
--- Â Volume period set of voice telling.
--- Â  Intellligent control.
--- Â  Record check.
--- Â  Multicolor door lamp
---   Patient List 
---  Permanent calendar 
---   Bedside Music 

4.Packing &Delivery
| | |
| --- | --- |
| Packaging Detail: | Standard expport packings and can do customized |
| Delivery Detail: | Based on order quantity |
5.
ETRÂ W
arding Calling System Overview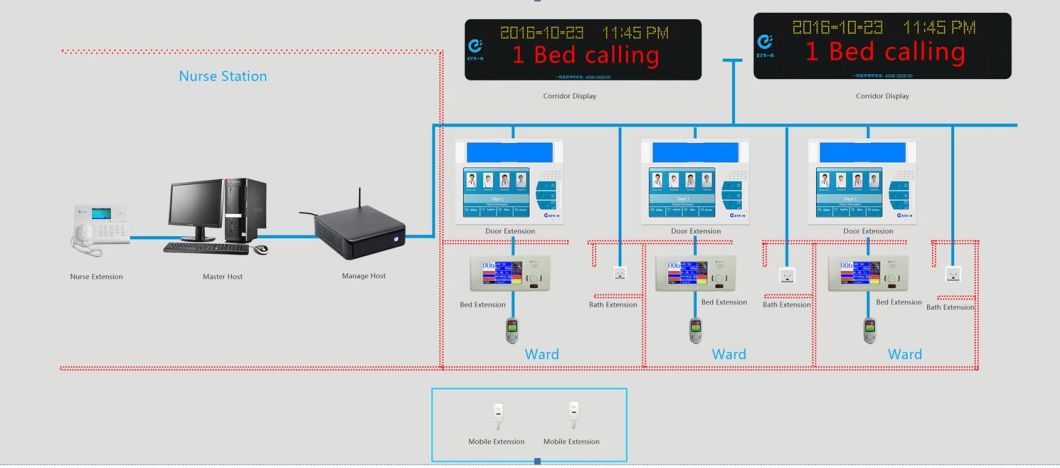 COMPANY OVERVIEW
1.Basic Information about ETR
Founded in 2003, Hunan ETR Electronic Medical Engineering Co., Ltd. has developed into a state-level high-tech enterprise. Consisting of
 top R&D team has developed four series of products over the past decade, including the solutions for digital smart medical wards, the integrated solutions for medical gas system, the integrated solutions for digital medical cleaning system and the solutions for ward nursing (calling) system, through independent R&D and production with market demand as the orientation
. ETR
has successfully been listed on the NEEQ (National Equities Exchange and Quotations)
 with
stock code of 839074
 in 2016.
The Company has passed
CE certification
 and the
 ISO quality management system
 certification, and gained a variety of certificates, including ISO9001 Quality Management System Certificate, ISO13485 Medical Device Quality Management System Certificate, ISO14001 Environmental Management Quality System Certificate
 
2. Workshop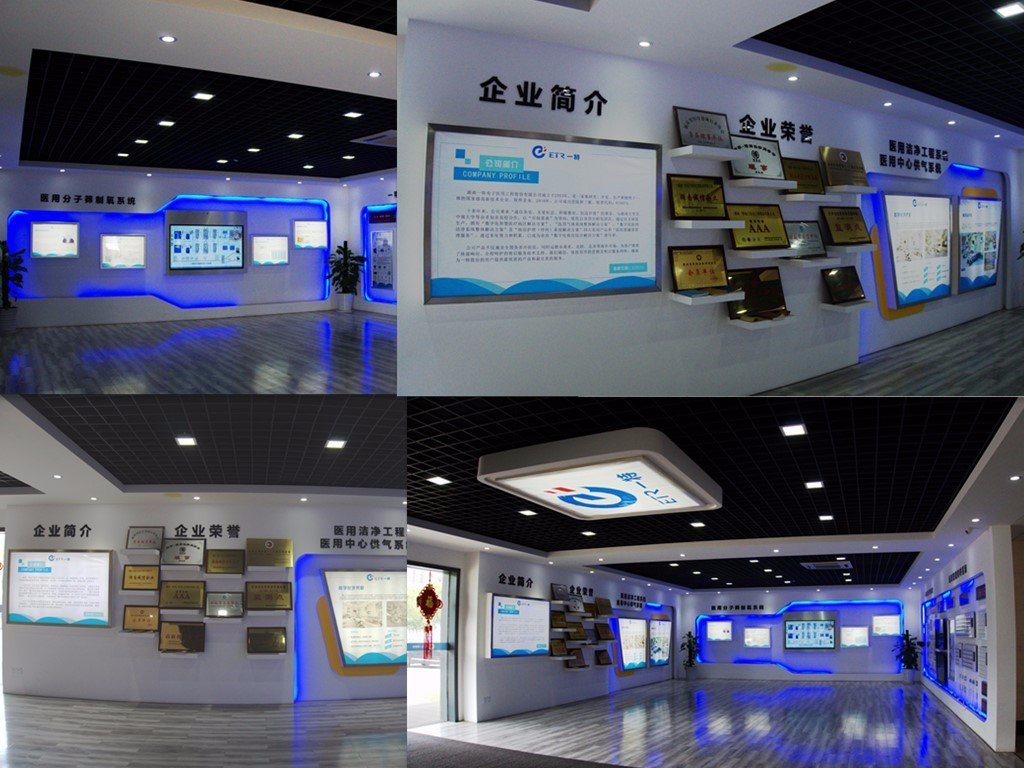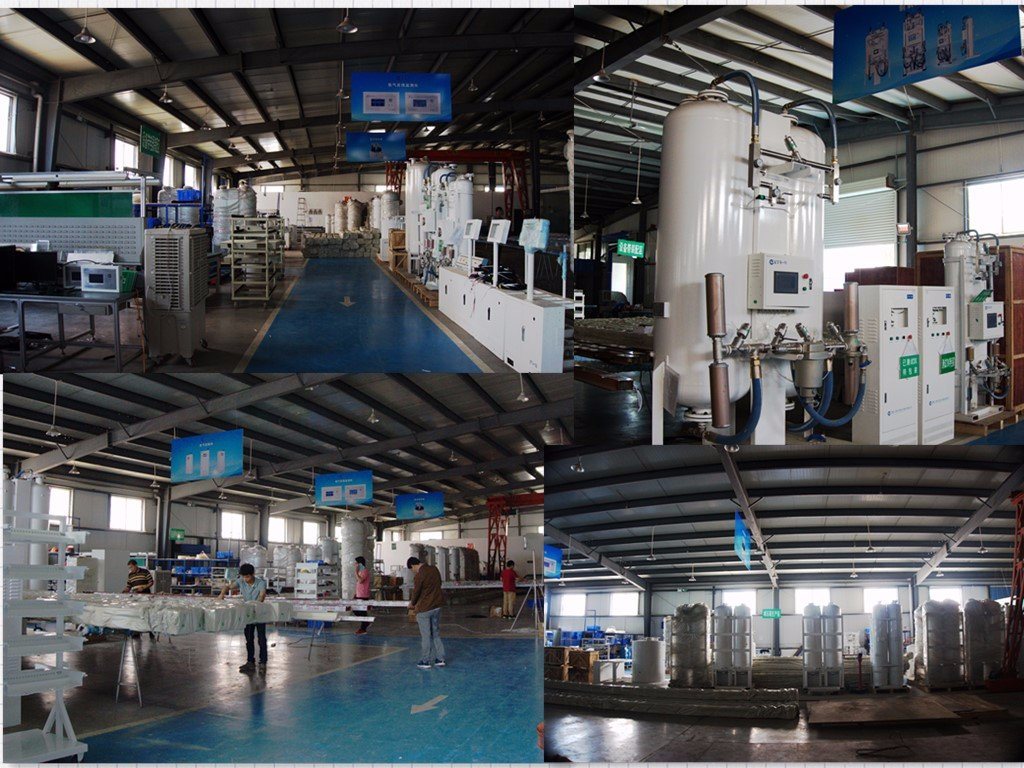 3. Domestic Cooperated Hospital
ETR has currently cooperated with over 100 hundreds hospital at domestic, while export its medical gas system, etc through its agency all over the world. ETR has rich experience in helping our customers provide integrated solution including before sales direction, consultancy and after-sales installation and
maintai
n, for domestic project detailed information, please check with our sales team.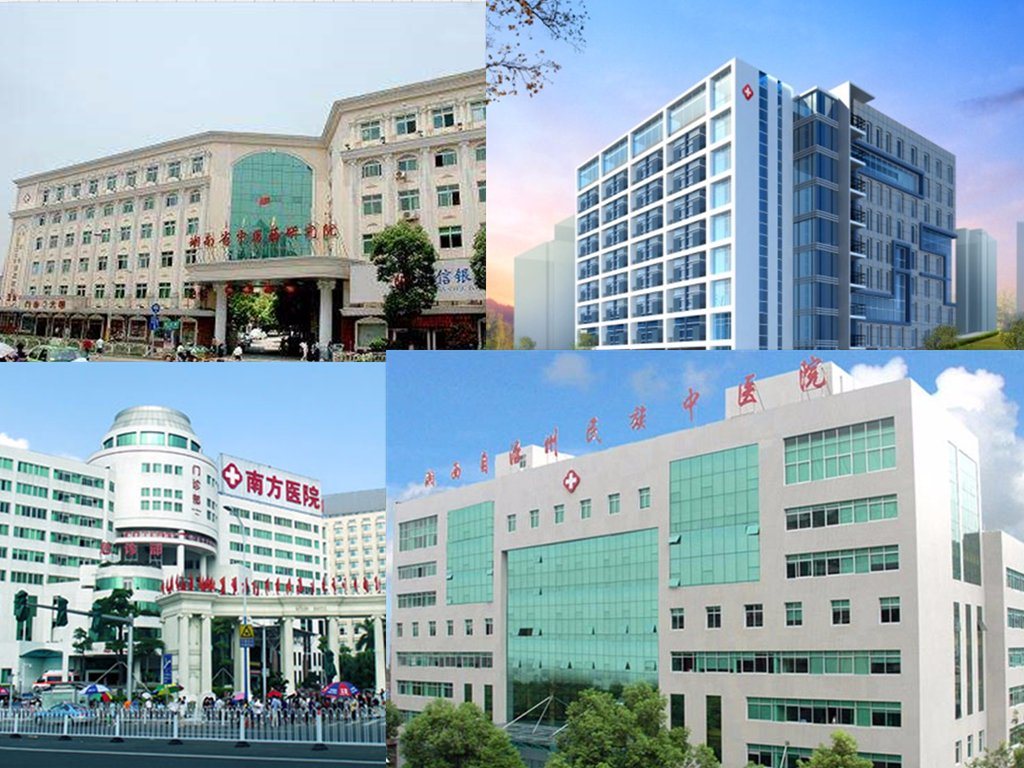 4. Company Activities
AFTER SALES SUPPORT
1.
Warranty &Training
Warranty
The Guarantee/Warranty Period shall be a period of twelve months after on-site startup & commissioning or eighteen months after shipment, whichever occurs first.

 

If any trouble or defect, originating with the design, material, workmanship or operating characteristics of any Goods, arises at any time during GUARANTEE/WARRANTY period, ETR shall, at his own expense and as promptly as possible, make such alterations, repairs and replacements.
On-Site Support
ETR can do paid services of on-site startup, commissioning, installation supervision, training, by providing purchaser with the services of qualified

 

English-speaking
engineer at site. ETR

 shall obtain all permits and licenses required to perform the services under this Agreement.

 
2.FAQ
What are the components of the nurse call system?
1. Host usually install in the nurse working place.
2. Secondary host install in the doctor office or duty room.
3. Corridor display install in the corridor.
4. Bed extension, bathroom extension & door lamp install in the ward.

How does the system works?
1. After patient have any requirments, patient can call nurse by bed extension, all the need to do is press the butoon sitting on their head of bed.
2. When the patient presses the call button, the nurse can received the call from nurse station by host, and make two-way call and talkback with patient. when patient pressed the call ,the corridor display also can show calling information on the display, so that it can ensure the nurse can reply the calling inforamtion as soon as possible.
Warding Calling System 
Related products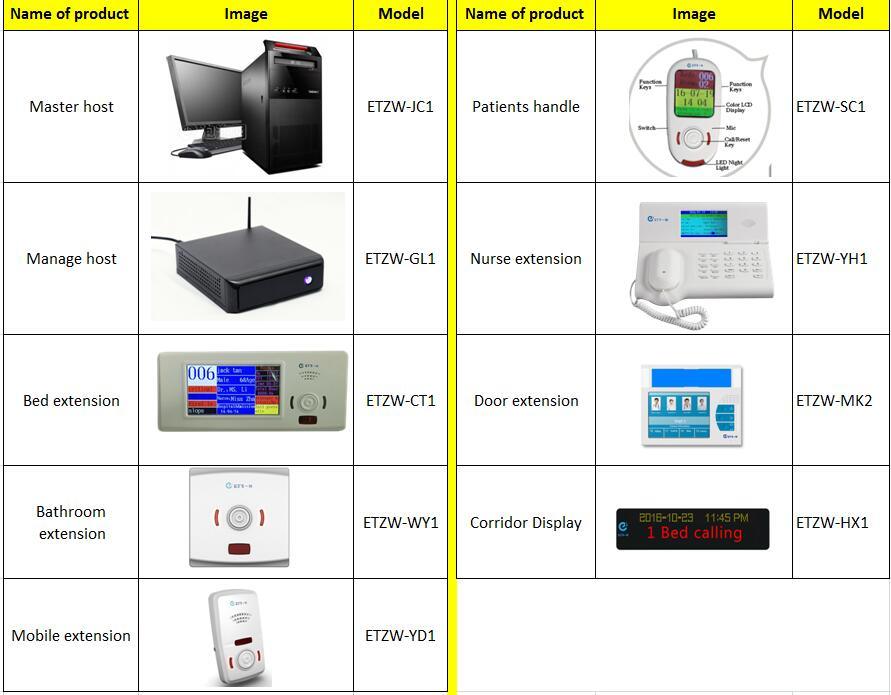 Welcome to contact ETR for medical  solution,ETR got expertise team to support you.
Pharmaceutical Peptide for Bodybuilding
Amino Acid,Pharmaceutical Intermediate,Tetracosactide Acetate
Cosmetic Peptides Co., Ltd. , http://www.ns-pharmaceuticals.com