Occurrence and Control Techniques of the Occurrence of Bamboo Shoots
Bamboo shoots, also known as bamboo shoot nightwing moth, are one of the major pests that harm bamboo shoots. The insects use larvae to break into the bamboo shoots to feed bamboo shoots and cause harm to the bamboo shoots, causing the victim bamboo shoots to shrink yellow, lose luster, and then rot and stink. There are rampant worms. Most of the killed bamboo shoots died after being rejected by the bamboo shoots. Although a few of them were able to become forests, they were also broken-headed, with numerous wormholes. The bamboo material could not be used brittlely and the damage rate was as high as 90%. First, the law of occurrence and morphological characteristics. Bamboo shoots have a generation in the city in 1 year. The eggs were used for wintering in the dead leaves of grass weeds and hatched at the beginning of March in the following year. The newly hatched larvae fed the tender stems on grassy weeds or Cyperaceae weeds for 1-2 times. No longer develops after molting, and does not feed in the stems near the weeds. The growth larvae are 26-47 mm long, purple-brown, with orange-red head and white topline. When large numbers of bamboo shoots were unearthed in mid-and late-April, the 3rd instar larvae directly plunged into harms, and mature larvae in mid-to-late May climbed out of bamboo shoots and fell into loose soil to make earthworms. The body is 20 mm long and reddish-brown. Embryos became adults in mid-to-late and mid-June. Adults were 14-22 mm in length and gray-brown. The female moth lays eggs on the evening or the second night after the emergence. The female moth prefers to lay eggs on the front edge of grass weeds that are about to die. Dozens of grains are produced into one. The eggs are nearly spherical, with a diameter of about 0.8 mm. They are gray and white. Wintering. The number of eggs laid per female female was 112-525 grains, an average of 382 grains. Second, prevention and control methods 1, agricultural control. Strengthen the management of bamboo forests and keep bamboo gardens clean. Every year from August to February of the following year, the weeds in the bamboo forest and the edge of the forest are completely removed and burned to eliminate the overwintering eggs. Before 3 months, we focused on removing germinating young grass, collecting manure, and destroying young larvae on it. The timely removal of the victim bamboo shoots in the bamboo orchard, transporting them out of the woodland, and concentrating or killing the larvae can eliminate a large number of larvae. 2, pharmaceutical control. Use 12% of disposable emulsion oil per acre 70-90 ml, or use 15% DuPont hit EC 10-18 milliliters, in the shoot before the selection of any one of the above agent spray 50 kg of water. After a bamboo shoot, every other week, two times in a row.
Ruoqiang Gray Jujube:
Gray jujube also call Ruoqiang date, the size is under 3.5cm, the dried jujube have a slight wrinkles, uniform size with natural flavor. The Gray Jujube sugar is very high, no sour taste, thin skin and fleshy, smaller seed, the flesh is tightness
Description of Gray Jujube:
Style: Dried
Type: Date
Product name: Ruoqiang Red Dates
Grade: grade one, grade two
Place of Origin: Xinjiang, China (Mainland)
Size: 28~30mm
Taste: Sweet
Drying Process: AD
Preservation Process: NO
Cultivation Type: Open Air
Package : Bulk, Gift Packing, Vacuum Pack, or as per customer quest
Max. Moisture (%):25% Max
Shelf Life: 18 Months
Storage method: cool and dry place
Nutrient ingredients: Rich in Protein, Calcium, Vitamin C, Iron demanded by human body.
Character: Superior quality, equal size, dark red, tastes juicy and sweet, thick fresh, small kernel.
Growth environment: Plenty of sunshine & pure mountain water, no air pollution
Functions:
Nourish blood for women;
Maintain beauty and keep young;
Anti-cancer;
Improving muscular strength and weight;
Improve the body's immune function;
Prevent liver diseases;
Soothe the nerves;
Anti-allergy
Uses: used as fruit, snack, Chinese traditional medicine, make soup, breads, cake, candy, compote and jam.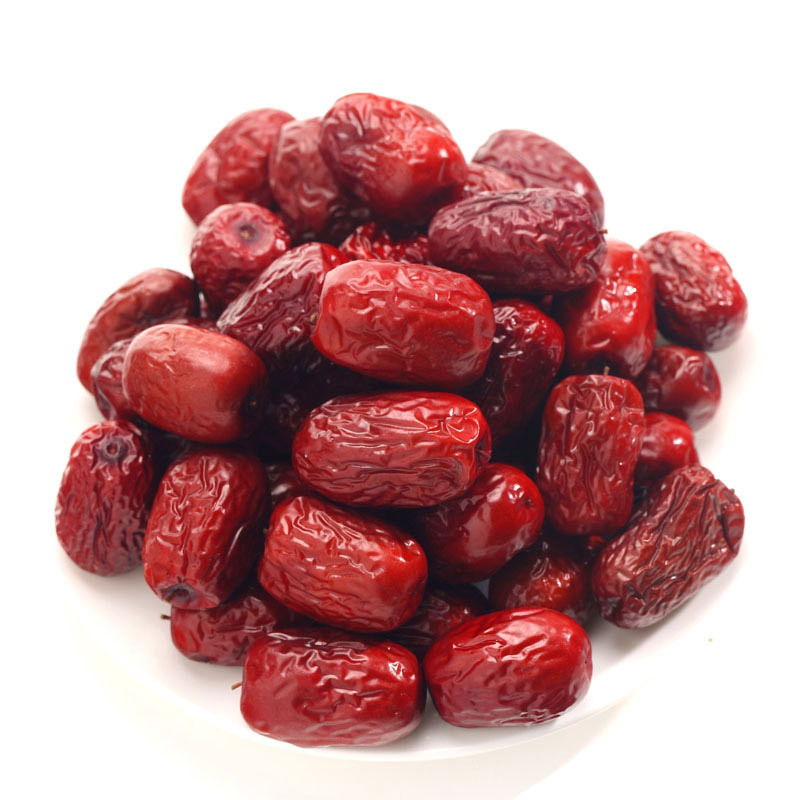 FAQ:
Q: How about payment terms?
A: 30% TT deposit+70% TT before shipment, 30% TT deposit+70% TT balance against scanned Copy B/L, Flexible payment can be negotiated.
Q: Production and deliver
A: After deposit, order enter into 1st stage( production, packaging, factory inspect, etc), then 2nd stage is CIQ inspection and written CIQ Certificate lead time one week(7 days), 3rd stage we arrange to arrange cargo shipment to departure port. Vessel lead time as per destination port in different countries( Such as North America line, South America Line, EMP, Asia, Australia, etc )
Gray Jujube
Gray Jujube,Natural Gray Jujube,Sweet Gray Jujube,Dried Gray Jujube
Ningxia Baishi Hengxing Food Technology Co., Ltd. , http://www.gojihome.com