Summer tomato rain-proof and high-efficient cultivation techniques
The annual price of summer tomatoes listed before and after the "Tenth" is higher and the planting efficiency is better. However, during the growth period of summer tomato, it is in the high temperature and rainy season, the flower buds are less differentiated, the fruits are easy to fall off, the pests and diseases are heavy, the yield is low, and the quality is poor. The use of rain-proof membranes and shade nets to cover summer tomatoes can significantly increase the yield and quality. Generally, the yield per mu can reach 4000 kg.
1. Variety Selection Tomatoes cultivated in summer should be selected resistant varieties with strong heat resistance and resistance to aphids, such as Maofen 802, Sukang 5, L402, Jiafen 15 and so on.
2. Cultivate strong seedlings
Seedlings are planted in mid-May. Before sowing, soaking with 1% potassium permanganate solution for 15 minutes, then soaking in fresh water for 3 to 4 hours, washing the seeds, air drying after sowing. Each mu of Daejeon needs about 10 square meters of seedbed, 1.2 to 1.5 meters wide seedbed, after the appropriate amount of organic fertilizer is sprinkled, shallow and flat, and the horse water is poured, the water is soaked and sowed, and then cover soil 0.5. cm. The cover seeds are fine gardens, and 5 to 8 grams of 50% carbendazim powder is mixed in the cover soil of each square meter of seedbed. After sowing, it will cover the grass and moisten, and support the arch shelter and shade net to prevent the rain from cooling. After the emergence, the grasshoppers were removed and the shade net was covered before and after noon. At the 3rd leaf stage, seedlings should be divided into seedbeds of about 40 square meters per mu, and 6 leaves should be planted. The seedling age is 40 to 50 days.
3. High ridge colonization, membrane net double layer covers 4,000 kg per mu of farmyard fertilizer, 50 kg of cooked cake fertilizer and 50 kg of compound fertilizer. After the site preparation, 80 cm wide saddle-shaped high ridges and a furrow width of 30 cm. According to a large row of 70 cm, 40 cm row spacing planting, spacing 25 to 30 cm, 4500 acres of planting. Planting water when planting is planted, and fresh wheat seedlings are covered in large rows after planting. Then a large scaffolding was erected, and a 0.06 mm thick film was placed on the frame as a rainproof membrane. Both sides were covered to 40-50 cm from the ground for ventilation. Cover the shade net before and after noon on the sunny day to cool down.
4. Strengthen the field management and post-emergence. The stems were cut to a length of about 10 cm when using single stem pruning roots to promote root development. Later branches were removed as soon as possible. Timely trussed vines. In summer, the temperature is high and it is not easy to set fruit. When the flowers are opened half, the tomato fruit is used to promote fruit setting. Each fruit has 3 ear fruits, each ear has 3 to 4 fruit, and the third ear fruit has 2 to 3 leaves topping. When each ear begins to swell, combine urea 10 to 15 kg and potassium dihydrogen phosphate 2 to 3 kg in combination with watering. Usually 8 to 10 days watered once. Remove the old leaves and diseased leaves in time. In the middle and late period, spray 3 to 4 times of 0.3% to 0.5% potassium dihydrogen phosphate solution or fertilizer such as fertilizer to prevent premature aging.
5. Prevention of pests and diseases to find aphid hazards, per acre 24.5% with edavan EC 1500 ~ 2000 times or imidacloprid 1000 times spray control. In the middle and late period 10 to 15 days, spray 75% chlorothalonil 600 times or 70% mancozeb 500 times to prevent disease. Diseases mainly include diseases such as blight, leaf mold, and gray mold. They were treated with 47% Garreton 600 times solution, 50% thiophanate-methyl 500 times solution, and 50% fast keratin 1500 times solution, respectively, for 7 to 10 days. Prevention once, continuous control 3 to 4 times.
What`s the meaning of Fresh Chestnut 40-60pcs?It`s means 1kg chestnut have 40 to 60 pieces,30-40pcs/kg,40-50pcs/kg,40-60pcs/kg,70-90pcs/kg,80-100pcs/kg.Packing:1.Loose packing: 5kg gunny bag,10kg gunny bag,2.Small mesh bags:1kg mesh bagX10/10kg Gunny Bag;900gx10 mesh bags/9kg mesh bagx4/36kg gunny bag;25kg plastic case or as customers requirements.HS CODE:08024110,Supply avaiability:from September to December. Loading port:Qingdao China, Mini order: 28tons/40rh container, Delivery time: within 7days after receiving the deposit. If you have any questions, please let us know as soon as possible, we will give you prompt response.We also supplied Fresh Ginger ,Air Dried Ginger , Fresh Garlic , White Garlic ,red garlic. Sweet Corn , Fresh Taro , Fresh Potato , Holland Potato . Fresh Baby Mandarin, Fresh Red Grape , Fresh Pomelo , Fresh Ya Pear Chaotian Chili , Paprika Powder , Fresh Apple and so on.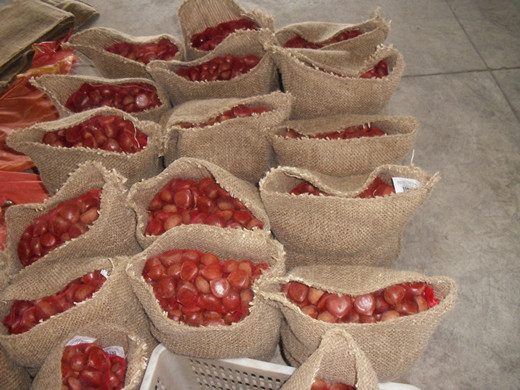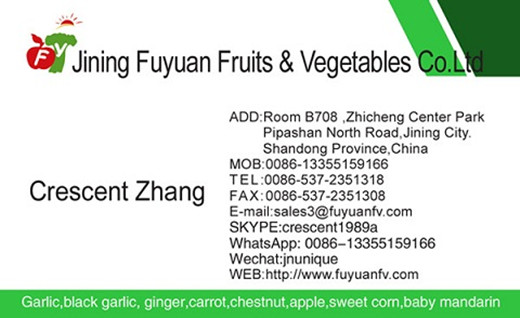 Fresh Chestnut 40-60Pcs,Pure Fresh Chestnut,Superior Fresh Chestnuts,Dried Chestnut
Jining Fuyuan Fruits And Vegetables Co., Ltd. , http://www.fuyuanfv.com